Northwestern University
---
Interactive Visitors Center experience engages prospects and families

---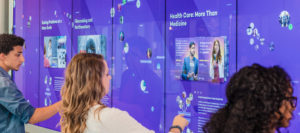 Northwestern University is a consistently ranked top-tier university that draws both national and international students. For TeamWorks' engagement, they had three key objectives:
Improve the academic quality of applicants
Improve the number of accepted students who matriculate
Improve the ranking of the university in overall standings
Their communication goals were to showcase the multidisciplinary approach to education and a campus life that intersects students across disciplines all the time.
What we did:
We were tasked with building out "visual wow" in the Evanston Campus' Segal Visitors Center to engage prospective students and their parents.
Teamworks' scope included spatial strategy, design management, implementation, installation, q/a, training, and bringing the brand narrative to life via engaging content.
We evaluated, designed and built out the entire prospective student visit, from the website virtual tour through the on-campus visit, from the moment they arrive in the center through the presentation, to the tour discussion.
We created almost 200 pieces of digital content to live on a 23-foot-long interactive board. Narratives reflect the breadth and depth of Northwestern's rich community of students, faculty and alumni.
These stories were purposefully selected and crafted to engage potential students with the Northwestern community in order to make them feel that they would fit into life on campus.
Interactive Wall content includes: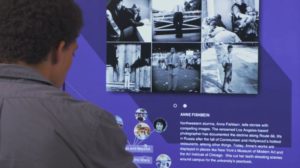 160 original stories, sourced and written by our team
40 short videos
Multiple infographics
"Easter Egg" questions to prompt engagement
We redesigned the auditorium presentation, adding visual wow and emotionally compelling narratives, including 2 segments of video that showcase the personality of the students and young alumni.
We built a 12-minute video loop that was originally scoped to play in the visitor center but will now also be used on other campus sites and in recruiting offices around the country because the client was so pleased with the work.
TeamWorks Media exceeded all expectations at every step and they delivered on time and budget.

– Mary Baglivo, Vice President of Global Marketing and Chief Marketing Officer, Northwestern University