St. Anthony High School
---
National fundraising strategy with a documentary anchor
---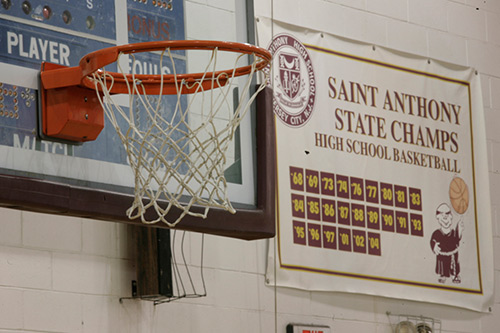 Background
St. Anthony's is an urban, Catholic high school in Jersey City, New Jersey with a really well-known boys' basketball coach – Bob Hurley Sr. Many of their students come from high-risk neighborhoods. These kids bus in – sometimes from over an hour away – in order to take advantage of the school's academic and sports programs. A privately funded institution, St. Anthony's relies heavily on donations to keep its doors open.
Business Challenge
The school was on the brink of closing in 2009 when administrators engaged TeamWorks to craft a national promotional and fundraising strategy.
Strategy
St. Anthony's is synonymous with basketball success. Their tough-love, parole-officer-turned-basketball coach had led the Friars to more state titles than any hoops program in the country. However, Coach Hurley cared more about another record – the one that had all but two of his players going to college in his 45+ years of coaching.
TeamWorks crafted an integrated marketing campaign centered around what would become an award-winning documentary film – The Street Stops Here – that used the story arc of one basketball season to open the door on the life impact St. Anthony High School produces.
Specific tactics included:
Production and distribution of a two-hour television documentary film on PBS and ESPN
Sponsorship partnerships for the film
In-person speaking engagements for Coach Hurley
A national marketing plan that included a consistently branded online presence and comprehensive social media campaign
A national screening series in major markets including Coach Hurley and introducing the school to hundreds of new potential donors
After-market distribution to iTunes, Netflix, and various Video On Demand networks
A national public relations campaign that secured coverage from the Wall Street Journal to the LA Times and hundreds of media entities in between
Impact
Our Telly Award-winning documentary "The Street Stops Here" engaged audiences on PBS and ESPN, leading to a flood of donations (over seven figures) from all corners of the country.