A guest with three patented data science innovations to his name? Yes, please. On this week's Brand Story, Inc., we're going down the analytics rabbit hole with with a proven leader in the field.
---
---
Guthrie C. Collin on Brand Story, Inc. 
analytics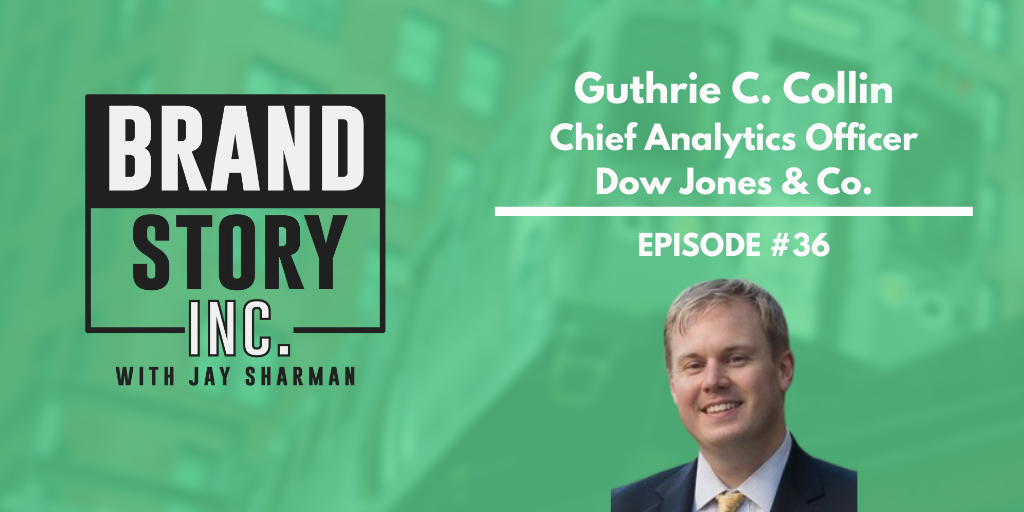 Content measurement has been a frustrating and elusive topic among brands, media publishers and agencies.  Every player in the space seems to have their own metrics and scorecard, unsurprisingly, biased towards proving success.  After getting inspired by a recent podcast with Paul Tsigrikes, head of The Wall Street Journal's content studio (The Trust), on data-driven content decisions, we decided to double down on measurement. Enter Guthrie C. Collin.
Collin is Chief Analytics Officer and Senior Vice President for Advertising Product and Technology at Dow Jones, publisher of The Wall Street Journal, Barron's, and MarketWatch. He's spent 20 years on the tech and data science side of media in roles at Associated Press, Nielsen, and a lengthy stint at Amazon Advertising, where he co-created three patented data science innovations helping to drive e-commerce media engagement.
We dug in with Guthrie on all things content measurement and effectiveness through the lens of media publishers, brands, and agencies. Guthrie is the data science guy and I, well, am not. The two of us had a blast nerding out on how his knowledge, product building and perspective can help YOU become a better leader within your content studio.
---
The highlights of our analytics deep dive:
How Dow Jones is leveraging technology to create better engagement.
Content measurement tools of the trade
Measuring "quality" content. How has it evolved? Where is it going?
Buying measurement products vs. building
Brands' current lens on the value of effective content
Tips for content studio execs when thinking about content measurement and brand satisfaction
Level-setting expectations with partners around content effectiveness and outcomes
Content measurement reporting – tools, trends, and tips
Morning Musts & Beside Book Stack (how Guthrie stays on top of all things content analytics)
Join us for a conversation that I felt instantly smarter for having. I am clearly more than a little excited analytics since I believe we all gain by better measurement and alignment around content effectiveness. Share your thoughts, feedback, insights, and suggestions.  We'll measure it, of course. Enjoy!