On this episode, I am joined by Dusty DiMercurio, the Global Head of Content Marketing & Social Media, and Stephanie Losee, Global Head of Content, ABM at Autodesk. Together, they share insights on brand building, story sourcing and much more!
Listen on Apple Podcast Here.
Dusty DiMercurio and Stephanie Losee on Brand Story, Inc.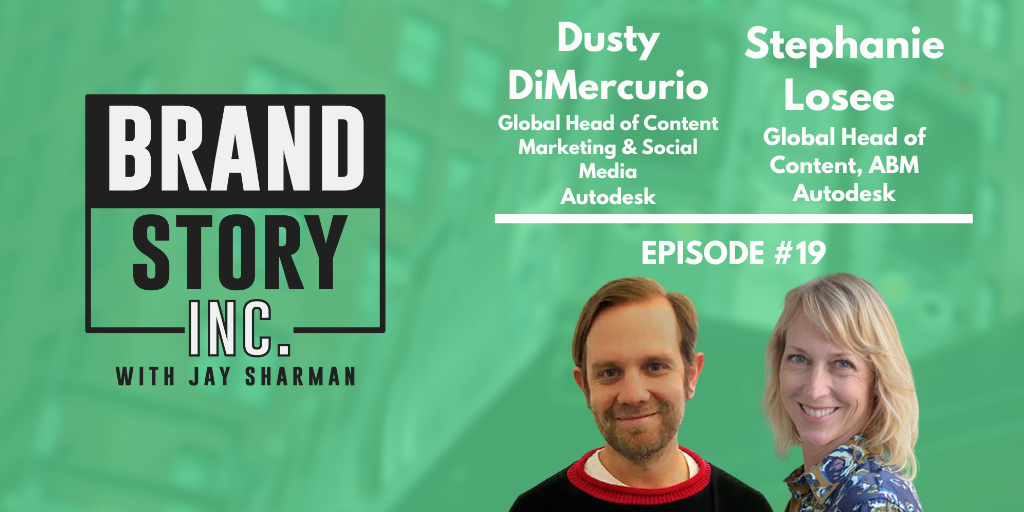 Each week we work hard to find a new angle for you on the business of content studios. This episode features, Autodesk, a 10,000(ish) employee company who "makes software for people who make things." They do it in a variety of markets – construction, architecture, manufacturing and media and entertainment. What appealed to me with Autodesk was the media property they created, Redshift, that appeals to these disparate markets in a seamless way where they have found a way to own a unique niche – the future of the design mind. The Xs and Os of creating and managing a brand content studio is one thing.  Finding the connective thread that can span multiple markets a large company serves in a unique way, well that's a whole other level.
On this episode, I welcome Dusty DiMercurio, the head of Autodesk's branded content and social media team and a finalist for content marketer of the year. Stephanie Losee, a recent addition to the team after stints as a content marketing exec at blue chip brands like Visa and Dell, joined the conversation as a new member going through joining a content team during a pandemic. I think you'll enjoy the journey of building a content marketing publication that serves so many distinct markets centered on one subject throughput. On this episode, here are a few of the topics we explored:
The origin story of building a brand centered on one topic that can transcend markets.
Story sourcing, authenticity and measurement of success – both tangibly and intangibly.
C-suite connectivity – how it happens and the ongoing relevance between Redshift and top management.
Content creation in a remote world.
Talent onboarding in a remote world.
Redshift staffing, content workflows and what's next for Autodesk.
Enjoy! And as always, please share your feedback, questions and insights.