Today on Brand Story, Inc., we welcome the incomparable Brian Morrissey, President and Editor in Chief of Digiday. Brian joins us to discuss the evolution of Digiday, the formation of their content studio, and the state of digital media amidst global upheaval.
Listen on Apple Podcast Here.
Brian Morrissey on Brand Story, Inc.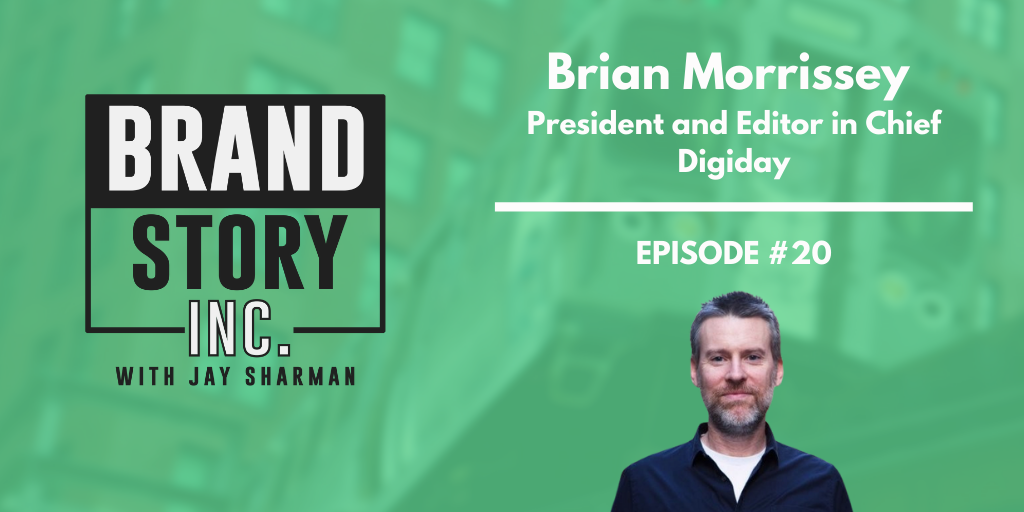 Each week on Brand Story, Inc. I ask our guests about their "Morning Musts" – the specific sources of industry news they consume on a daily basis to stay up to speed. For me, Digiday is the best source for digital media publishing trends, tips and insights. Bar none.  My personal favorite Digiday content is the weekly Digiday Podcast hosted by Brian Morrissey, Digiday's president and editor in chief.  He gets a wide range of premiere digital publisher executives and digs in to a level that I aspire to do here.
Brian famously calls B.S. when guests spew acronym soup and hype manipulated stats to make their entities look good and instead, talks about the fundamentals of how they make money in brass tacks terms. You can imagine my delight in nabbing Brian to be OUR guest and flip roles with him where I get to put him in the hot seat, so to speak.  Brian Morrissey is one of the most respected and trusted thought leaders in all of media and on this episode we focus on the state of the brand content studio, and go deep on the evolution of Digiday.
Here are a few of the topics covered on this episode:
Brand created digital media publishers like Mel from Dollar Shave Club and the keys that separate the winners from the losers.
Digital media community building and engagement.
The evolution of Digiday from an events company to a media company and the current and future challenges to the business and how Brian is adapting.
The formation of Digiday's content studio, Custom, and how its evolved as a model in the b2b space.
The state of digital media and publishing amid three once-in-a-lifetime macro events.
Rapid-fire word association on all the major social media platforms and direct to consumer touchpoints through a digital media lens
I had a ton of fun with Brian even as we dug in on some serious topics. I hope you enjoy and PLEASE share your feedback with us so we can continue to improve