The National Championship is here – get ready for the great moments in Tournament history. Magic beating Bird, some Freshman named Michael from UNC beating G-town, Laettner's turnaround-three, Thomas Hill's hands on head in disbelief, Jimmy V running around looking for someone to hug. One of my favorites, because I'm a Spartan, was Mateen Cleaves hopping up and down on a sprained ankle with a gigantic smile on his face.
These moments are entrenched in my memory, but I've always wondered what type of guys they are off the court. Are they that genuine in real life or was it just for TV? Are they good guys? Pompous or grounded? Well in October 2012, I had the opportunity to find out. As part of a feature I was producing for a show on BTN called Impact The World, I spent a day with Mateen Cleaves in his hometown of Flint, Michigan.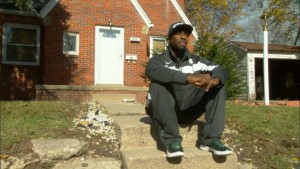 With Mateen, it didn't take long for my questions to be answered. He introduced himself and said, "Whatever you need today, just tell me." After talking over our filming goals, I gathered my thoughts and did what every MSU fan should do when they meet a legend. I snapped off a "Mateen, before we go, I just want to say thanks for that f'ing national title in 2000. I remember dominating bars from NYC to Jacksonville that March. So, thanks man!" I followed this with a huge bear hug. Was it the most professional move? Probably not. What was his reaction? "HELL YEAH C-WEB THAT WAS AMAZING," followed by more handshakes, hugs and laughs. After my outburst of appreciation, I told Mateen the least I could do was buy him lunch that day. He agreed and we were off to shoot a day in the life of Flint Michigan.
I loved Mateen Cleaves the basketball player, he left it all on the court. A captain in every way, he had the respect of his entire team and opponents. Well that day in Flint, I found out there was a better guy than Mateen Cleaves the basketball player; it was Mateen Cleaves the man because that guy is THE MAN. When we got to his neighborhood, gun shots rang out immediately. I looked at him with raised eyebrows and he said, "Ah C-Web, just another day in Flint. Don't worry, you're with me, so nothing will happen." After that, I had no worries.
He gave us the first hand tour of Flint by showing us his tough neighborhood, all the boarded up houses and schools, the endless amount of liquor stores, etc.
It's a tough town to live in, but that doesn't stop Mateen from caring about the kids of Flint and helping them in every way possible. We finished the day at the Boys and Girls Club of Flint, where Mateen runs a reading program for the kids. In addition to reading, Mateen breaks down everyday life in Flint, and gets those kids to focus on becoming the next generation of leaders, rather than getting swallowed up in a life on the street. The kids embraced every word he said and they lit up in their discussions with Mateen. Seeing his interaction with the kids, you could immediately tell he's a difference maker to these young minds. He told me, "The key to getting through to these kids is coming around when there aren't TV cameras," which speaks volumes about Mateen.
I drove back to East Lansing for another story that day and all I could think was, "MAN WHAT A GUY. WHAT A DAY. I'M SPEECHLESS." When I made it home that night, I got a call from Mateen thanking me. He said he had a great day and left two tickets for me at will call for the next night's Spartan hoops game. I responded, "Are you serious, all you do is give! Words can't justify my thanks to you for today." He just laughed in that happy Mateen way.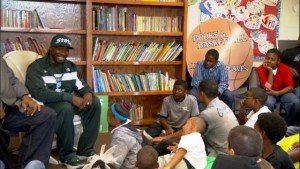 So when you're watching the NCAA Championship Game, and you see the famous highlight of Mateen hopping up and down with a gigantic smile, just know that shot of him and his reaction is real through and through, Mateen Cleaves truly is "The Man."
*By the way, I did pay for his lunch that day, well my company did. But next time, it's on my personal card, for all he's done for everyone he's come in contact with.