Kristi Ross, Co-CEO and President of tastytrade joins us today on Brand Story, Inc. to share the origin story of her company, the importance of production staffing, and some advice for marketing executives.
Listen on Apple Podcast Here
Kristi Ross on Brand Story, Inc.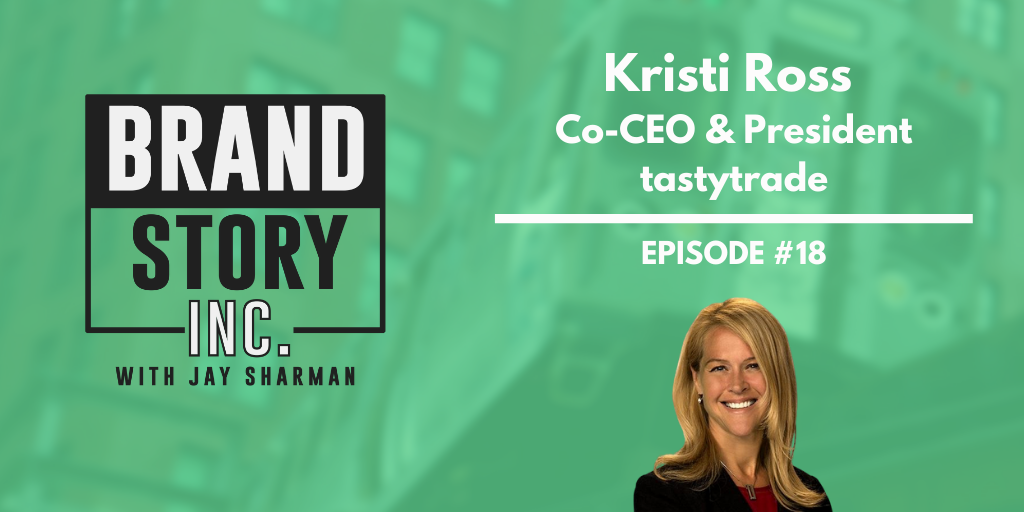 I often find myself presenting the 'why' and 'how's' of content marketing. People new to the discipline tend to like the sound of it – attracting new customers by giving away great advice via content.  I often use terms like "media company mindset" as we explore exercises to get the audience to re-imagine their company as if they were a digital media company.  Who doesn't like to dream about playing a bit of Hollywood? Inevitably, the skeptics in the room ask for concrete case studies and specific ROI.  As I continually sought new case studies, the spark for Brand Story, Inc. came to be.  At that time, I happened to be introduced to tastytrade, the incredible digital media company that produces eight hours of daily, live content, boasting more than 50 shows entertaining and educating the do it yourself investment community.
Before I even launched the Brand Story, Inc. podcast, I reached out to tastytrade Co-CEO, Kristi Ross. There are few case studies that rival what Kristi and her founding Co-CEO, Tom Sosnoff, have built. It's one thing to create and distribute advice-driven content and give it away via blog posts, whitepapers and social media. It's a different level to create a media company producing more live daily content than national business networks.  And that's why I was so excited to learn the full spectrum of tastytrade from the founder's journey in 2011 through its impact on the trading platform, tastyworks.  Here are a few of the topics Kristi and I had a blast discussing:
The origin story of tastytrade and how it grew to a 50-show media powerhouse.
The production staffing, workflow and approach to talent.
How tastytrade builds and bridges the media network content to impacting the trading platform, tastyworks', business.
Content success metrics and biggest can't miss content that did as well as biggest surprise successes.
Advice for marketing executives intrigued by going all-in on content.