Today on Brand Story, Inc., we are joined by Rachel Jacobson, president of the Drone Racing League. This is episode, Rachel shares tactics of the drone social media sphere and her journey of becoming president of the DRL amidst a global pandemic.
Listen on Spotify Here
Listen on Apple Podcast Here
Rachel Jacobson on Brand Story, Inc.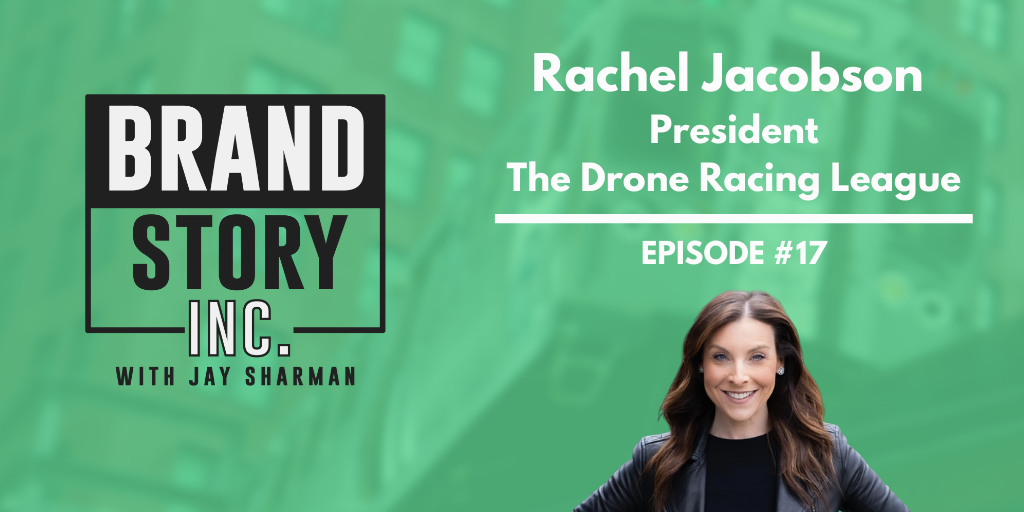 If you're looking for the model of a brand who is adapting and even thriving during the pandemic, you're going to love today's conversation with The Drone Racing League's (DRL) Rachel Jacobson.  The former head of corporate partnerships for the NBA, Jacobson became president of DRL during the pandemic.  I had never heard of DRL until March, when they stepped forward announcing a weekly original drone simulator season on NBC Sports Network starting in May. Other sports were on their heels and DRL was making hairpin turns in their business model, stepping in to announce STEM partnerships with schools to create some zing in school curriculum.  I was intrigued, so I started following the league and as I dug in, I was more impressed but what I saw.  All you need to do is look at this promo video of the brand to get the "wow" factor. Check it out:
Rachel has described DRL as a "technology company wrapped within a media company", so as it relates to the business of content studios, this episode gets a bit meta, since DRL's product in many ways, IS content.  With that as a backdrop, here are a few of the highlights of what Rachel and I discussed as she took us behind the curtain of The Drone Racing League:
DRL's organizational structure through the eyes of content creation and distribution
How the DRL makes money
Social media's role in tapping in to the global drone community
The benefits of being a challenger brand and how DRL seeks a first mover position in the relaunch of live sporting events
Inheriting a brand and a culture and what it's like to become president of a rising brand during a pandemic
NBA's media company arm, NBA Entertainment and lessons that apply to the future of the DRL
Pull up a seat and take a ride with us. I tried my best to model the drones by going from 0 to 90 mph in a second, so let me know how we did. Ping us with feedback, questions and suggestions on how we can continue to serve the content studio community!