In today's episode of Brand Story, Inc., Morgan Dewan of Turner Sports joins us to shares her thoughts on best practices for creating a profitable content studio and how COVID-19 is impacting media innovation.
Listen on Apple Podcast Here
Morgan Dewan on Brand Story, Inc.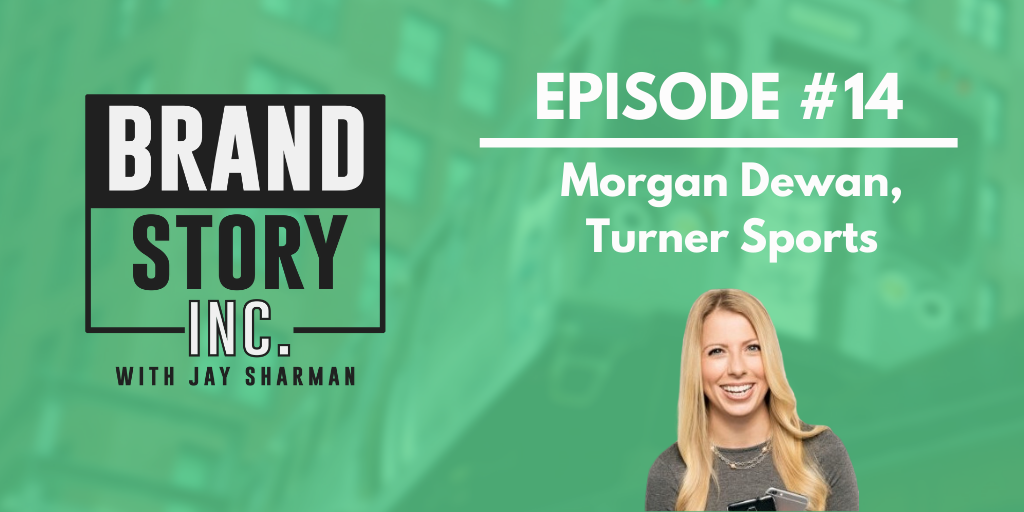 In January 2020 I walked in to Turner Sports social media content studio and it felt as if I'd met Willy Wonka. Morgan Dewan, Turner Sports' vice president of production development and social media, hosted 30 or so media executives to share how this exploding business came to be – from day one through its current incarnation.  I was blown away.  The infrastructure was impressive, but I was blown away by Morgan's talent, business smarts and her digestible, practical lessons. They're lessons that apply to ANY brand building a content studio function to better engage audiences and creating or expanding revenue streams.
I know, I know. You're thinking 'give me a multi-billion dollar media empire to backstop me and watch what I can do!' Yet, Morgan's approach to Turner Sports executives was similar to any small or mid-size business challenges – presenting a theory to secure internal investment dollars that didn't have proof of concept.  In this edition of Brand Story, Inc., Morgan shares her vision of a content cathedral and how it starts with bringing a brick.  Here are a few of the topics we covered:
Explaining the "why" behind a content studio and the process of securing internal support and funding.
The key tenets of the content studio business model and how she employs them.
The top three lessons she'd use if she were starting another brand's content studio.
Her "morning musts" – who a leader in sports content studio business turns to for staying on top of business news and insights.
The impact of COVID-19 on innovation and Turner Sports' content studio mindset.
Business life lessons that are just fun to hear from a content rock star!
Enjoy the podcast. Subscribe to it. Rate it. Share it. And give us feedback on how to make it better!