On this week's Brand Story, Inc., we're joined by Paul Tsigrikes, Head of Marketing and General Manager of The Trust at The Wall Street Journal & Barron's Group. It's a content studio… within one of the world's most respected news organizations. How does that work? Paul explains, also offering his tips on harnessing the power of data to make decisions and how brand perspective is shifting at the dawn of a new decade.
---
---
Paul Tsigrikes on Brand Story, Inc. 
data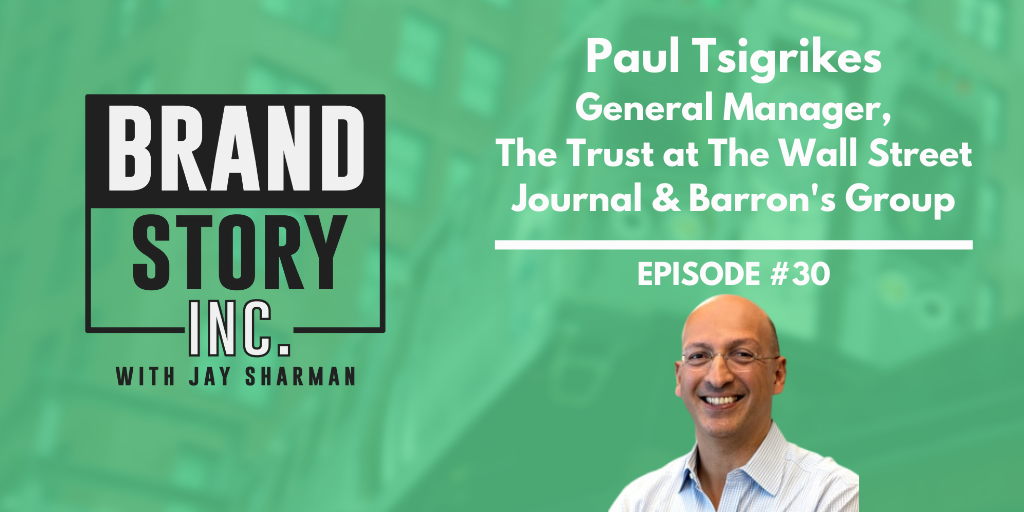 The Wall Street Journal & Barron's Group content studio was rebranded in 2019 and is now called The Trust. It's as if WSJ/Barron's marketers had a crystal ball on how that very word – trust – would become so lacking in our society in 2020.  On this Brand Story, Inc. episode, Paul Tsigrikes, The Trust's GM, joins us to share how The Trust earned the its world class media publisher content studio status using data driven insights for the likes of Honeywell, Slack, Berkshire Hathaway Home Services, to name but a few. 
Paul's journey is a fascinating one. He returned to WSJ/Barron's this April, during the lockdown, and has yet to physically meet many of his colleagues in person.  Paul spent nearly five years prior overseeing Washington Post's Brand Studio after a five year stint previously overseeing WSJ's brand studio.
On this episode, we explore a bevy of topics, including:
What data-driven decision making for The Trust means, how they do it and how it differentiates them from competitors.
The top three trends for media publishing content studios.
Managing a content studio during a pandemic and the tips and insights one can learn by starting a job fully remote.
The line of editorial integrity and branded content within the news category and specifically within The Trust.
The digital media tipping point and brands' perspective shifts in 2020.
The value of a premium, niche audience over scale and how it applies to content communities.
Tips, insights, thought-provoking frameworks for all content studio execs as well as Paul's "Morning Musts".
Join us for an in-depth conversation that I hope continues to earn your trust with Brand Story, Inc. Please share your feedback, ideas and questions so we can continue to deliver the most relevant episodes to you!