On this week's Brand Story Inc., we're joined by Industry Dive CEO Sean Griffey. He offers realistic insights into identifying underserved audiences, creating quality, targeted content, and how to seamlessly integrate a new content studio into a thriving model.
---
---
Sean Griffey on Bran Story Inc.
content studio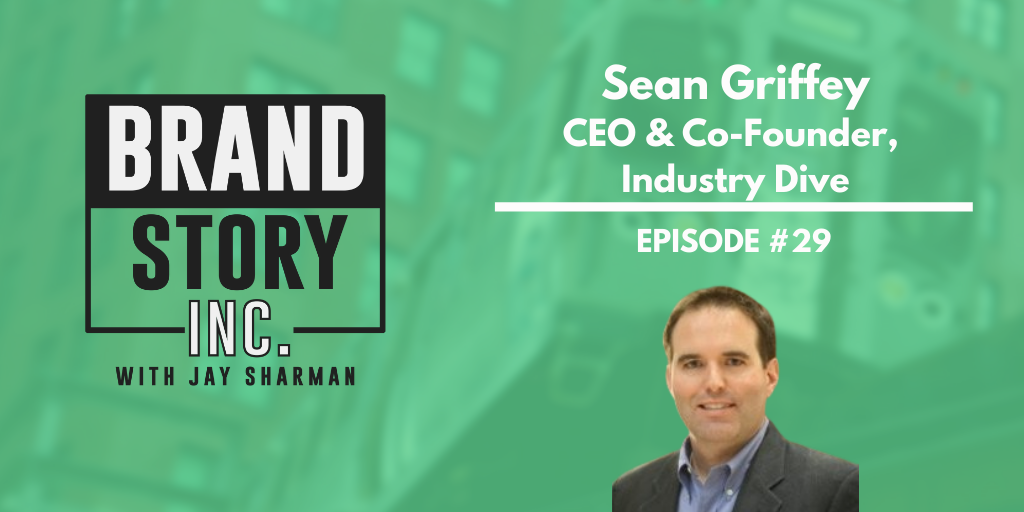 Each episode I work my tail off to try and bring value to the community of content studio executives at brands, agencies and publishers. Sometimes I get 2-for-1 deals for you with multiple guests. Today, you get 20-to-1 value.  Sean Griffey, the CEO and co-founder of B2B media publisher, Industry Dive leads a business journalism company that owns and operates 20 different industry trade digital media publishers.
I loved Sean the first time I heard him on a Digiday podcast with Brian Morrissey a few years ago. While industry charlatans were talking about 2000% page view increases and zillions of followers, Sean talked about creating practical content for underserved markets that made money. He shared how much the company made, its profits and how he built a direct-to-exec business model through email.
In July of 2020, Sean and his company acquired Newscred's content marketing studio, assets and people. We've talked about building content studios from the ground floor and leveraging content resources within media companies to create them, but we've yet to explore the acquisition conversation. So, with that in mind, enjoy a ton of value, with the shoot-it-straight, Sean Griffey.
On today's episode we explore:
The origin story and expansion of Industry Dive.
The value of premium, niche audiences in the B2B space vs. scale for scale's sake.
Decision-making about acquiring a content studio. Why Newscred?
Quick learns and advice on integrating a content studio into a publishing company.
The biggest obstacles and near-term look at what content solutions look like in b2b.
The COVID-19 effect on content studio creation and branded content.
Join us. I think you might like it. We're always looking to improve, so send us thoughts, feedbacks, suggestions and even a pitch to be on the podcast.