On this week's Brand Story, Inc., Jay sits down with Jordan Hyman whose knowledge of content marketing is boundless. He illuminates what works in brand content studios, what doesn't, and why paying attention to scale can save the day.
Jordan Hyman on Brand Story, Inc.     
 content marketing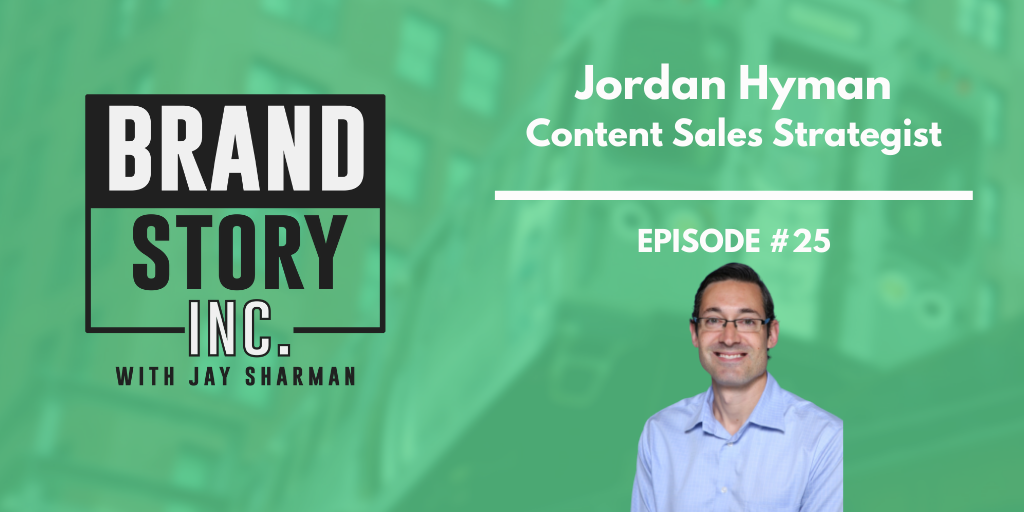 Jordan Hyman gets it. He's a content marketing executive with 22 years experience delivering double-digit growth for top-tier brands like NBC Universal, Dow Jones, Bloomberg and Time Inc. He's also currently a free agent. But not for long. Listen to this podcast for two minutes and you'll know why.
Jordan is the first guest we've had on Brand Story, Inc. dedicated to revenue generation through a branded content studio.  He's had the pleasure of working at household name brands, yet, while the name appeal and scale certainly help get on the RFP lists and in the door, it's his understanding of what makes successful partnerships work as opposed to simply checking the box on the quarterly quota.
This episode is a master's degree level chat about all things brand content studios. Here are a few of the topics we dug into:
Brands evolution of understanding how to align with well-produced content
Advice for publishers who lack the infamous "scale" word
Selling perspective to media buyers and planners on their take on scale vs niche
The COVID-19 effect. What's changing? What's not? Where are the opportunities?
Brand integration and sales in the Connected TV ecosystem
Digital media adoption by large media companies and current hurdles
A laundry list of "Morning Musts" to help you stay on top of trends, including the "Nudge" I needed.
Let us know your feedback on the episode and feel free to share your feedback, insights and suggestions either in the comments or ping us directly. Enjoy!