(Photo by Jean Fruth/La Vida Baseball)
Have we got a home run for you on today's Brand Story, Inc.? We're joined by La Vida Baseball's Jennifer Mercedes and Jesse Menendez to discuss blazing a new trail at the intersection of LatinX culture and the culture of baseball.
---
---
Jennifer Mercedes & Jesse Menendez – Brand Story, Inc.
latinx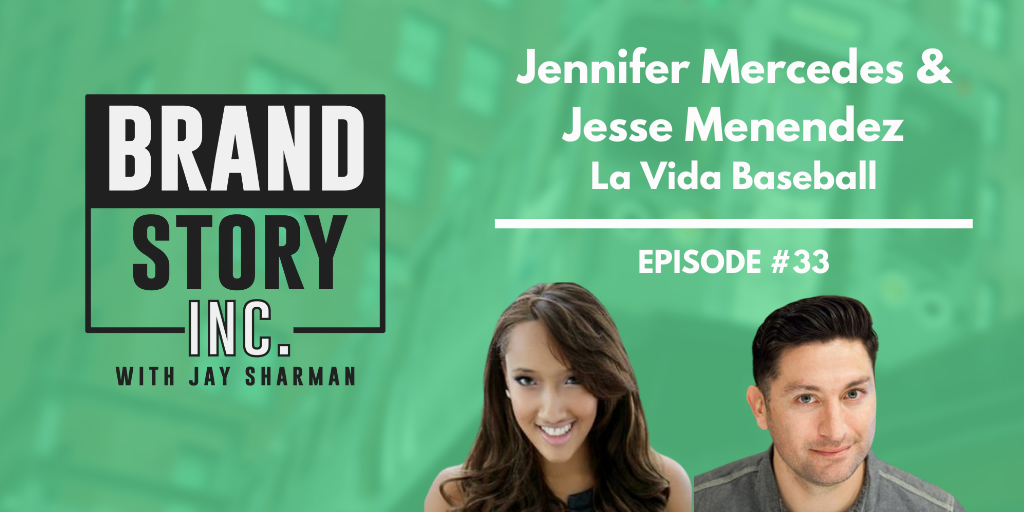 It's Hispanic Heritage Month AND things are getting serious in Major League Baseball, so it seemed like kismet for Brand Story, Inc. to feature La Vida Baseball.  Jesse Menendez, La Vida Baseball managing director and Jennifer Mercedes, La Vida Baseball Live! host and producer, sat down with me for some pitch and catch on how this leading multi-platform content creation hub connects the LatinX baseball community to the players fans love.
Full disclosure – my day job includes a role as CEO of La Vida Baseball.  As a non-Latino, running this business and the content studio within it, I felt the rich conversations we have about diversity and particularly LatinX content would be beneficial to you, dear listeners, even if a little inside baseball (sorry).
La Vida Baseball reaches 11MM+ fans per month by focusing on the human interest stories at the intersection of LatinX culture and baseball. Launched in March 2017, La Vida Baseball was a finalist for Digiday's prestigious Best New Brand Award (2018) and has partnerships with the likes of Minute Media, Turner Sports, Minor League Baseball and a host of other folks.
Here are some of the topics we hit:
La Vida Baseball's origin story and the power of niche media.
Building a brand with MLB players, teams and a league from the ground up.
The LatinX demographic and best ways to think about it from the big picture through the very nuanced and different ethnicities within it.
The language thing: when to create in English vs. Spanish and how to serve both.
The power and scale of the LatinX community which is nearly 1/5th the US population.
The term LatinX, which only 3% of Latinos use. Terminology – Latino vs Hispanic, etc.
What authentic content means to the LatinX community.
Morning Musts – the places and people to follow for content studios serving LatinX demos.
We'd love to hear from you! Thoughts, feedback, likes, dislikes, guest ideas? We're here to listen. Share your thoughts in the comments or ping Jay Sharman directly on Twitter (@_JaySharman).