On this week's Brand Story, Inc., we're joined by Rich Greenfield of Lightshed Partners, who offers an industry veteran's take on connected TV and the current cold war being waged for your attention in a saturated media marketplace.
Listen on Apple here.
Rich Greenfield on Brand Story, Inc.   
connected TV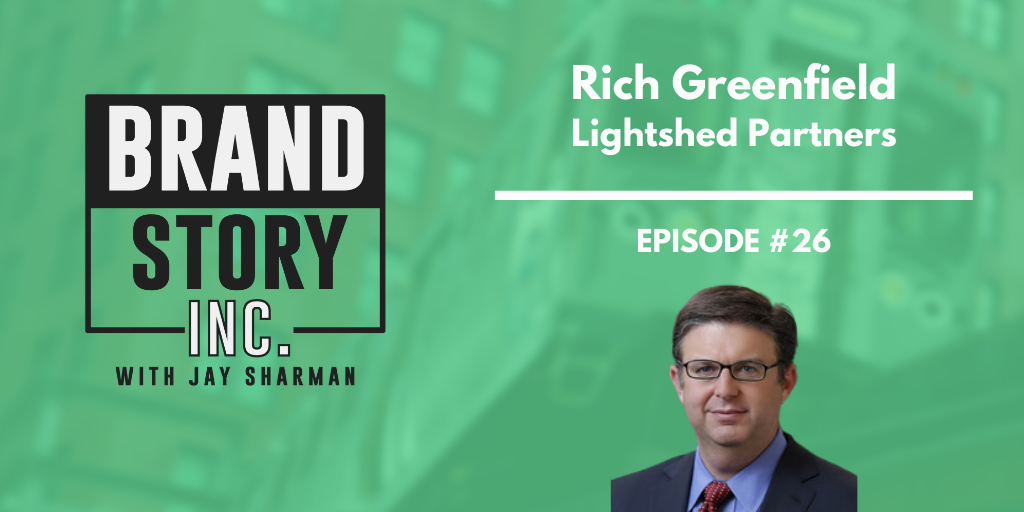 If you're looking for a Master Class in the acronym, jargon-filled world of connected TV and OTT streaming, give me one hour and grab your ear buds. Rich Greenfield, a partner at Lightshed Partners and a 25-year veteran of the technology, media and telecom marketplace joins Brand Story, Inc. to help us piece together the jigsaw puzzle of the connected TV world.
Rich (and I) thrive on making sense of the disrupted content landscape and I believe any content studio executive will take some golden nugget insights away that can impact how you think about distributing content. Sparked by Rich's recent post, "The War for Your Living Room: Here Comes Google, Watch out Roku, Amazon and Apple" we jump right into the deep end of the streaming wars and what it means for the brand and media publisher content studios.  Here are some of the key topics Rich and I cover:
Where are we in the timeline of the Wild West ways of streaming and connected TV?
Where does free OTT fit into the long-term equation?
Which companies are you focusing on to win the connected TV race?
A surprise (to me) major company few are talking about that could emerge a winner
How brands should be re-thinking the landscape of connecting with target audiences
Insights for media publishers in the connected TV world
Rich's admired sources of industry insights and content
And of course, we explore the books on Rich's nightstand
Join us. Share us. Give us feedback. I'm really excited to bring Rich's talent and insights to our listeners. We'd love to hear from you!