Today we're joined by Rich Routman, President & Chief Revenue Officer of Minute Media, a rapidly-growing sports media platform connecting content studios with fans in fascinating ways. Routman offers insights on branded content, both today and tomorrow, and how Minute Media's adaptable strategies have helped them evolve in the COVID-19 media landscape.
Listen on Apple here.
Rich Routman on Brand Story, Inc.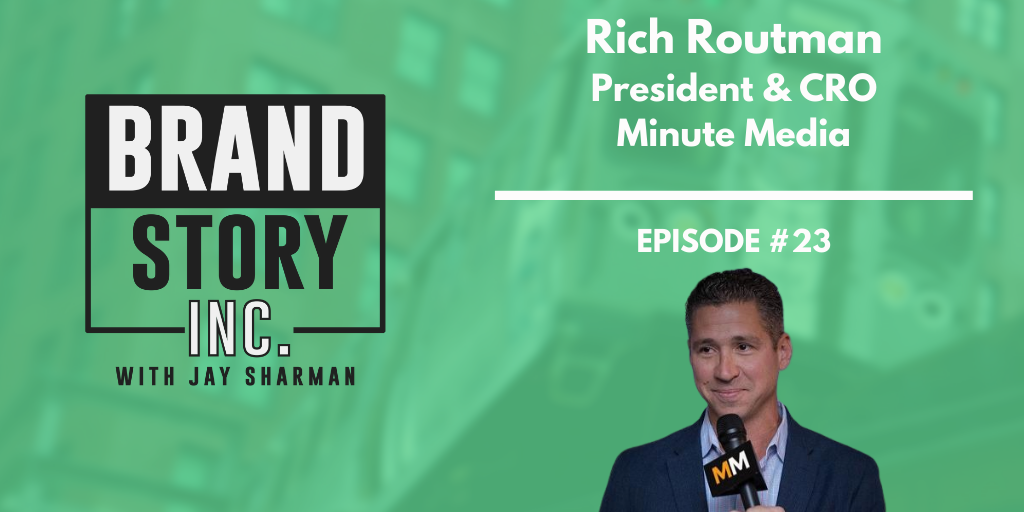 Late in 2019, Minute Media made waves in the sports media landscape when they acquired The Players' Tribune, the athletes' direct-to-fan publisher owned by New York Yankees' legend, Derek Jeter.  It is one of seven owned and operated publishers for the Israeli-based emerging sports media giant, yet the core of Minute Media is its technology platform, which includes its own proprietary content management system and a robust video syndication tech solution and ecosystem that has distribution on more than 1,000 sites.
On this episode, Minute Media's president and chief revenue officer, Rich Routman, joins Brand Story, Inc. to offer up his insights into owning and operating multiple content studios that services seven different media publishers as well as advertisers.  With nearly 400 employees overall, with content staff spread across 13 cities as well as recently integrating another company's content studio, I thought the complexity and rapid evolution of Minute Media made for a great source of learning for all of us.
Rich is smart, battle-tested and shoots it straight. He's also a workhorse and one of the most respected minds in the content business I know.  In the full disclosure department, TeamWorks Media-owned La Vida Baseball is a partner of Minute Media. I'm excited to have the Digiday Publishing Executive of the Year (2018) step up to the mic for Brand Story, Inc!
Here are a few of the topics we cover in this episode:
Minute Media's technology platform and artificial intelligence in content distribution
Acquiring & integrating The Players' Tribune and its impact on the content studio org structure
The state of branded content and what to expect in the rest of 2020 and 2021
The publisher content studio and brands' content studios – friend, foe or both?
Advertiser perspective on scaled audiences vs powerful niche communities
Adapting a content studio in COVID-19 and how it might evolve
Morning Musts – what Rich consumes to stay on top of his game
If you have feedback, ideas or suggestions for Brand Story, Inc. please let us know! We'd love to hear from you.