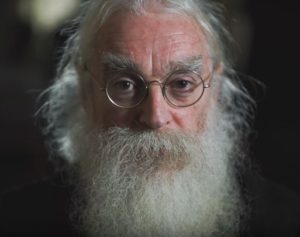 TL;DR: Putting your artifacts online doesn't detract from your collection, it brings it to life. Don't believe me? Then listen to this guy ->
"If you subscribe to [the British Museum YouTube] channel, you will find out all the marvelous things to come, and life in every way will be superior." – Irvin Finkel
Those are the fine words of Irvin Finkel, a philologist and Assyriologist at British Museum in London. Finkel has developed a bit of a cult following online for his videos about ancient artifacts that he stars in for the museum. And why, you ask, does anyone care about the ancient Mesopotamian amulets he waxes poetic about? Because he can tell a damn good story.
It's like the proverb goes: "Tell me a fact, and I'll learn. Tell me a truth, and I'll believe, but tell me a story and it will live in my heart forever."
These three museums are doing just that – turning to their experts and collections to create memorable stories that have captured the attention of people around the globe and cultivated a new generation of fans for the museums.
Here's what museums are doing to find new fans:
The British Museum – Curator's Corner 
The British Museum is breathing new life into their collection's artifacts with the help of their YouTube series "Curator's Corner." In each episode, one of the museum's curators sits down in front of a camera and tells the story behind an artifact or exhibit they're particularly intrigued by.  Take, for instance, my favorite curator Irvin Finkel who you'll remember from above. Finkel waxes poetic about his favorite artifacts with such passion that you suddenly find yourself deeply intrigued by whatever ancient artifact he's talking about. So intrigued, in fact, that I already have plans to go for a visit when I'm in London this fall.
The National Baseball Hall of Fame and Museum – Inside the Hall
The National Baseball Hall of Fame in Cooperstown is filled with baseball's most fascinating memorabilia. But sometimes even the most knowledgeable baseball fan doesn't know the real story behind every object. And sometimes wall placards simply can't convey the feeling and emotion of something truly special.
That's where the Baseball Hall of Fame's La Vida Baseball comes into play. This site tells the story behind the object that the ordinary fan might not understand. Some videos even feature MLB players themselves talking about a particular object and the impact it's had on their lives.
Check out famed shortstop Omar Visquel remembering what it was like to play with a cardboard glove before he could afford the real thing:
FULL DISCLOSURE: La Vida Baseball is a TeamWorks Media property, though your dear blogger has nothing to do with it!
The American Museum of Natural History – Shelf Life
AMNH uses this series to take viewers behind the scenes at the museum and show off parts of their collection that the average visitor would never get to experience first-hand.
Their videos dive deeply into how these artifacts were discovered, the significance they've had on the scientific community and even how decades later these specimens are helping researchers detect new scientific discoveries. Without this information, people might walk by the museum's dioramas without ever knowing the magnitude of their significance.
Not only do these videos help the museum educate people before they step foot through their doors, they create a deeper interest and understanding in what people are seeing while at the museum.
+++
A few years ago, a Wired article posed the question: "How do you convince the public that they should care about a bunch of dead stuff?" Eloquent, I know, but it gets to the root of the issue. If the public doesn't care about your collection, why would they go see it in person?
So the next time someone at your institution argues that putting your collection online will discourage people from coming into the museum to see it for themselves, send them one of these videos and see how quickly they develop a new found interest in ancient amulets.
After all, when was the last time someone said: "I don't need to go to the Louvre, I saw a photo of the Mona Lisa once"?
After all, when was the last time someone said "I don't need to go to the Louvre, I saw a photo of the Mona Lisa once"